Drive – Please only follow this mudmap – DO NOT rely on Google or GPS to get you here as it often directs people in the complete opposite direction and despite repeatedly reporting the fault to Google it has not been resolved!
Jindabyne is a comfortable 1 hour and 45 minutes drive from Canberra, or approximately 5 1/2 hours drive from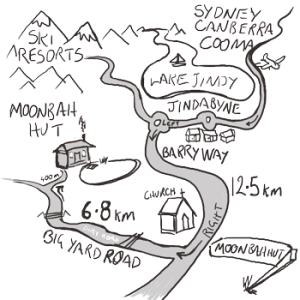 Sydney.
Upon arriving in Jindabyne, drive through, turning LEFT at the SECOND ROUNDABOUT onto BARRY WAY. Drive exactly 12.5km along Barry Way and then TURN RIGHT, onto BIG YARD ROAD. (100m past Moonbah Church). There is a sign at the Big Yard Road turnoff which reads: 'Moonbah Hut 6.8km' . Drive the 6.8km along the Big Yard Road and then TURN RIGHT into the driveway that leads down the road to the Hut (400m). (There is another sign at the turnoff into the driveway). Moonbah Hut is serviced by an all-weather, unsealed road, that is suitable for all vehicles, with the rare exception of periods during very heavy snow, when 2WD vehicles are advised to carry snow chains. (In these instances, even vehicles within Jindabyne township will be required to fit snow chains).
Watch this short video to help you on your way
Fly
Fly into Canberra Airport, from which Moonbah Huts is a comfortable 2 hour drive. All major Hire Car companies service Canberra Airport. Alternatively, you can travel by Limousine or Shuttle Bus. Either will drive you right to the door of Moonbah Hut and collect you for the return journey at the conclusion of your stay.
Or, fly directly to the Cooma Snowy Mountains Airport via Rex Airlines from Sydney. As of 11th June 2010 Rex Airlines will service the Cooma Snowy Mountains Airport, a comfortable 45 minute drive/connection from Moonbah Huts, with daily flights from Sydney. Refer to their website for timetables and bookings.
Accommodation
Check the Availability for Moonbah Huts.