Moonbah Huts accommodation is an ideal, unique summer or winter, getaway.
We have two luxuriously appointed, waterfront huts to choose from, each with a large open fireplace and in-floor slab heating.
The Moonbah Lake Hut & The Moonbah River Hut
These huts are situated on a small private lake that holds Brown, Rainbow and Brook Trout. The lake is strictly fly fishing only & catch & release. 100 metres away is the famous Moonbah River, the regions premier fly fishing stream, (fly or lure), alongside which sits the luxuriously appointed, Moonbah River Hut.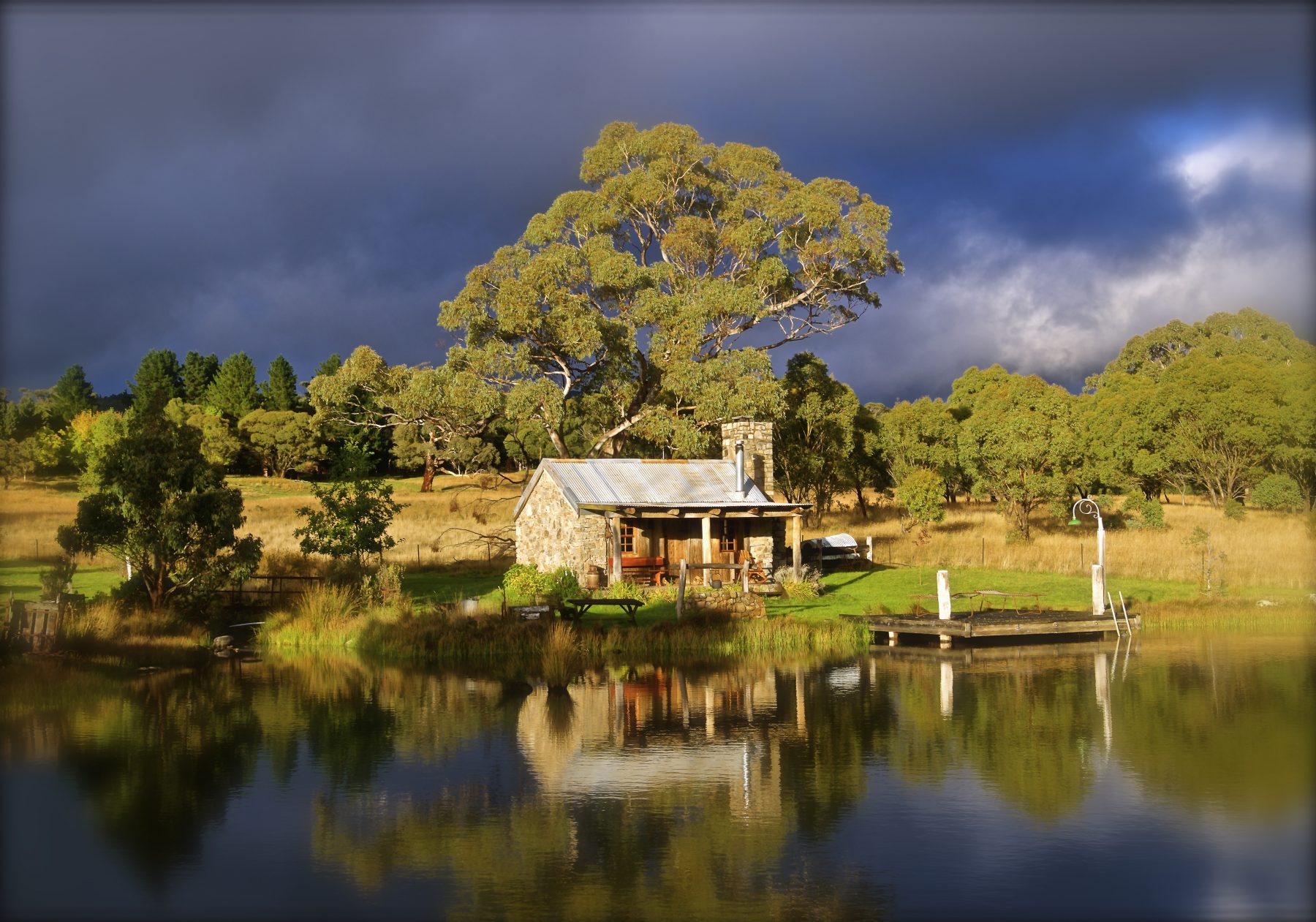 ---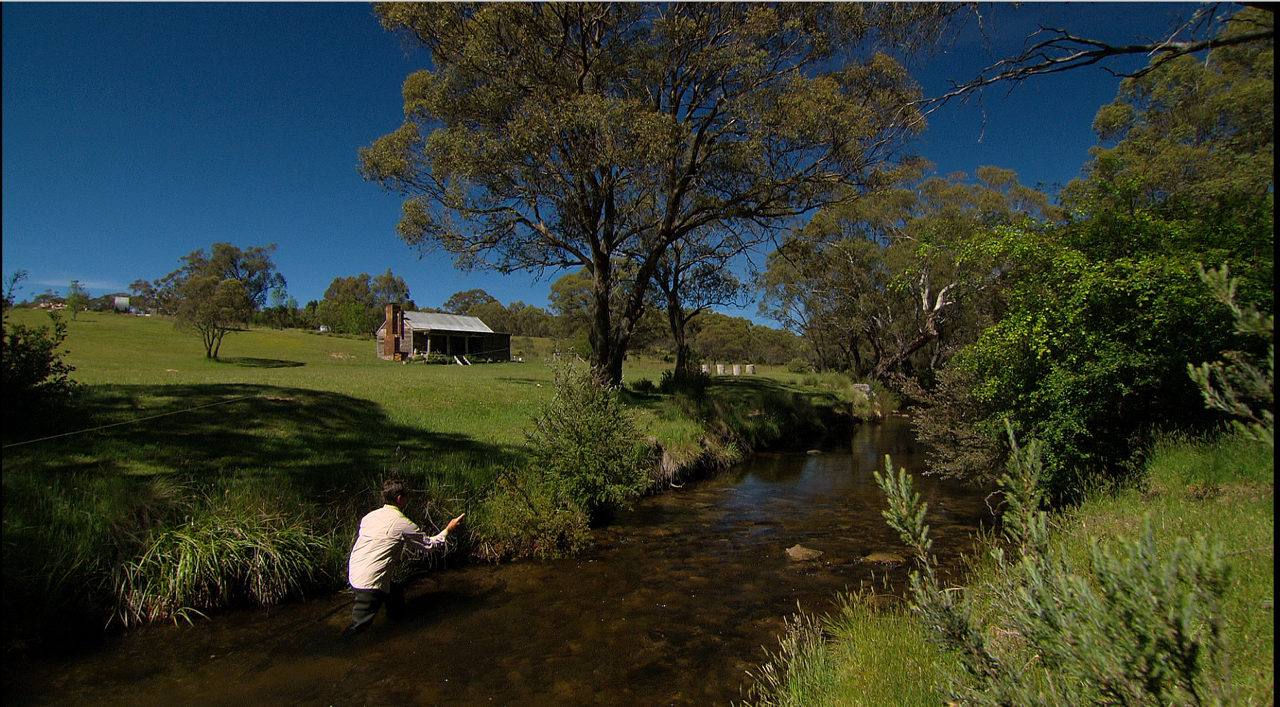 The huts are very cosy (even in -15c) with underfloor heating.
The Moonbah Lake Hut sleeps a maximum 4 people, ideally 2 adults and 2 young children.
The Moonbah River Hut sleeps a maximum 5 persons. The bedding is of the highest quality. Both of the Huts feature huge, stone open fireplaces and with snow on either Christmas or Boxing Day, on 5 of the past 9 years, the fireplaces can be enjoyed on most nights of the year. Both Huts also feature wood-fired cooking stoves, (and twin electric hotplates), for cooking and a small fridge/freezer to store your catch in. All cutlery, crockery, cookware, etc is supplied.
If you're feeling particularly invigorated, go mountain bike riding, or maybe take a dip in the cool, crystal clear waters of the Moonbah River.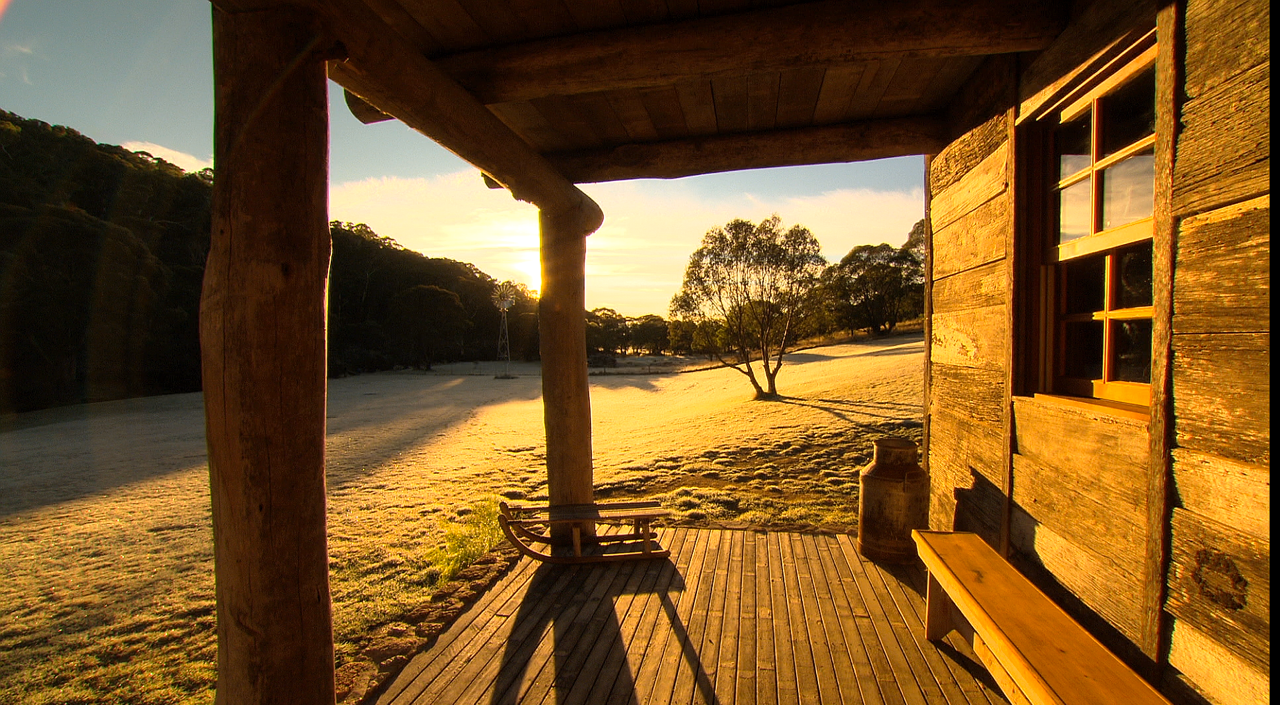 If all this sounds a little too tiring, just sit in the rocking chair on the verandah and read a book. Both Huts feature 'inside' bathrooms, (no outhouses here).
Local telephone is connected and you can make long distance/mobile calls if required.
The fishing is outstanding. Expert guiding or tuition, can be arranged. 2 hour beginner lessons are very popular. (Rods and all gear required, are available for hire).
Moonbah Huts are not suitable for pets.
There are few modern appliances, as the huts are very traditional – No television reception or Playstations!
Minimum 2 night stay
Barbeque
Bedding (Linen)
Cooking Facilities
CD Player
Linen Supplied
Local Telephone
Open Fireplace
Refrigerator
Stereo
Comments from Moonbah Hut Guests
"I've stayed in a lot of cabins in my time but 'The Hut' is by far the best experience I have had. This was the perfect place to come with my son-in-law Jason and grandson Jed. We had a great time fishing and hiking"
DAVE MANSEAU, MASSACHUSETTES, USA.

"Can't believe we found this special place".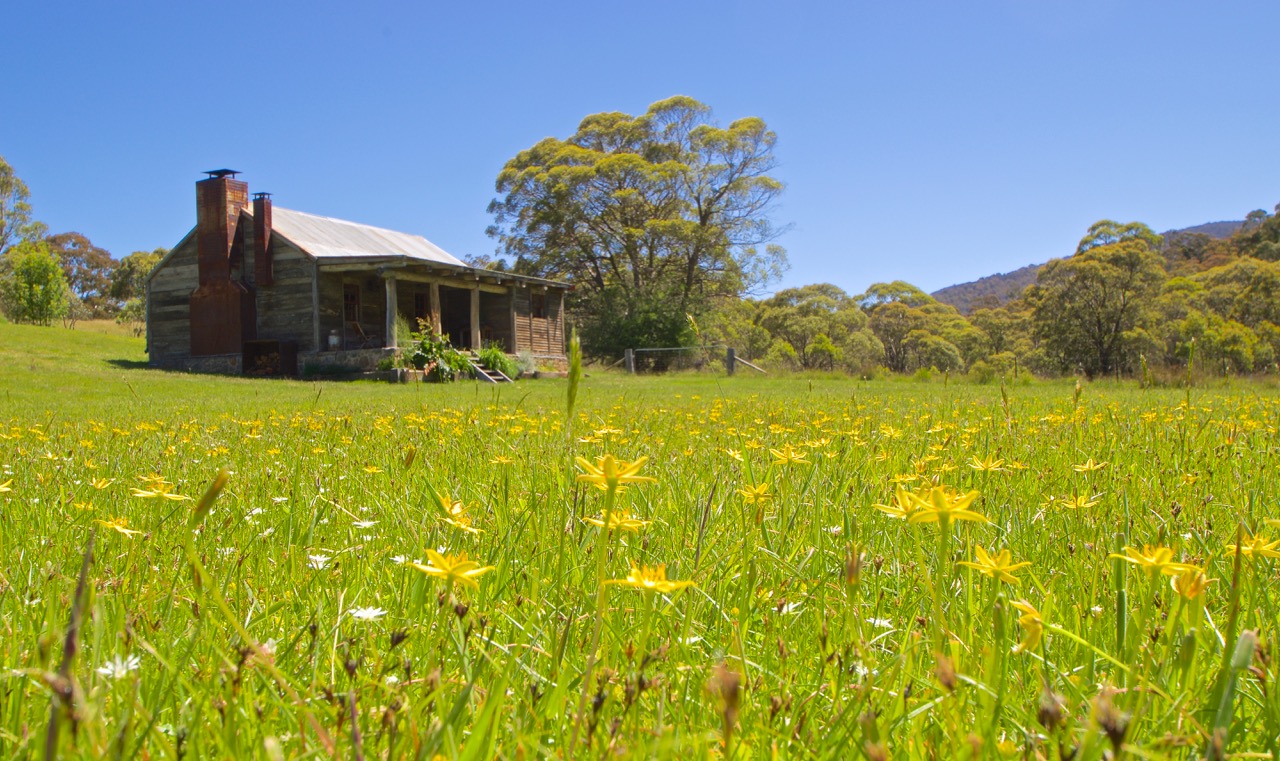 KAY & BERNIE, SYDNEY.

"What a work of art you have created with love and passion. How would we describe Moonbah Hut? A place of nurturing, a place of healing, a safe haven that cradles you at night. Thanks Brett".
PAT & ROBIN, CANBERRA.

"We came here and fell in love with the place – the valley, the fishing, the crisp country air and the lifestyle. We're going back to the city, changed people. Thankyou, what a beautiful place"!
THE WILSONS, SYDNEY.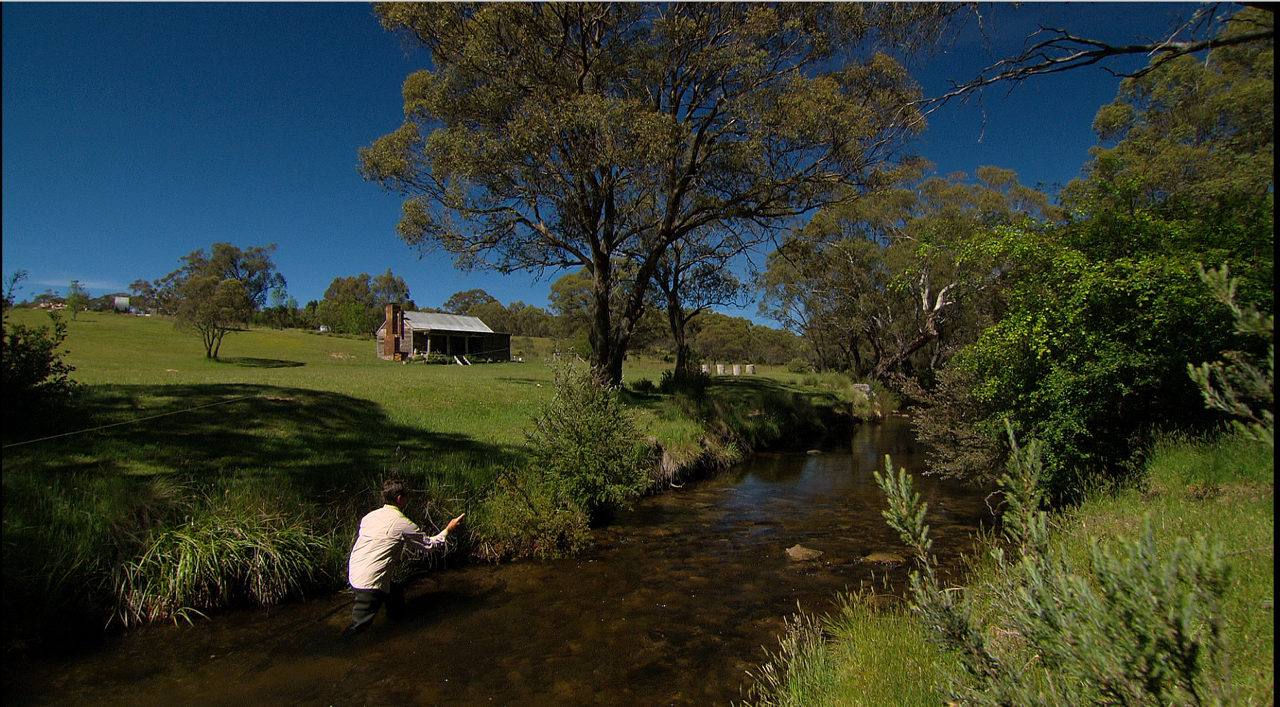 "It was the best relaxing days we have ever had. The scenery Perfect, the hut Perfect, Everything was just Perfect, couldn't wish for a better place to relax. Can't wait to take the kids next time to meet Ted. Thanks for a great three days Brett, you will see more of us. Thanks again. Michelle & Wayne Cowra NSW"
MICHELLE, COWRA.

"Moonbah Hut looks great on the website, almost too good to be true. But guess what? It IS true!! No enhanced photos. It's not so much a hut, but an experience. The peace and quiet, the isolation, the fauna, the fresh air, the space to relax and escape whatever you're trying to escape. Inspirational stuff indeed. Oh and a great shower as well. Wish the place was ours, but as that isn't going to happen we'll have to settle with going back again at the first opportunity. A truly wonderful part of the country. Don't hesitate, just GO!!!!"

DALE & BELINDA , ST HELENS PARK.
"The huts are a pleasant 15 min drive from Jindabyne. Explore the bordering Kosciuszko National Park (100 metres from the Huts). Savour the mountain air and clear night skies with a gazillion stars – an astronomer's paradise. Go for a walk and see brumbies, wild deer, wombats, 60 plus species of birdlife…..take a picture…..paint a picture…..the scenery is breathtaking."
PETA, CROYDON, VIC.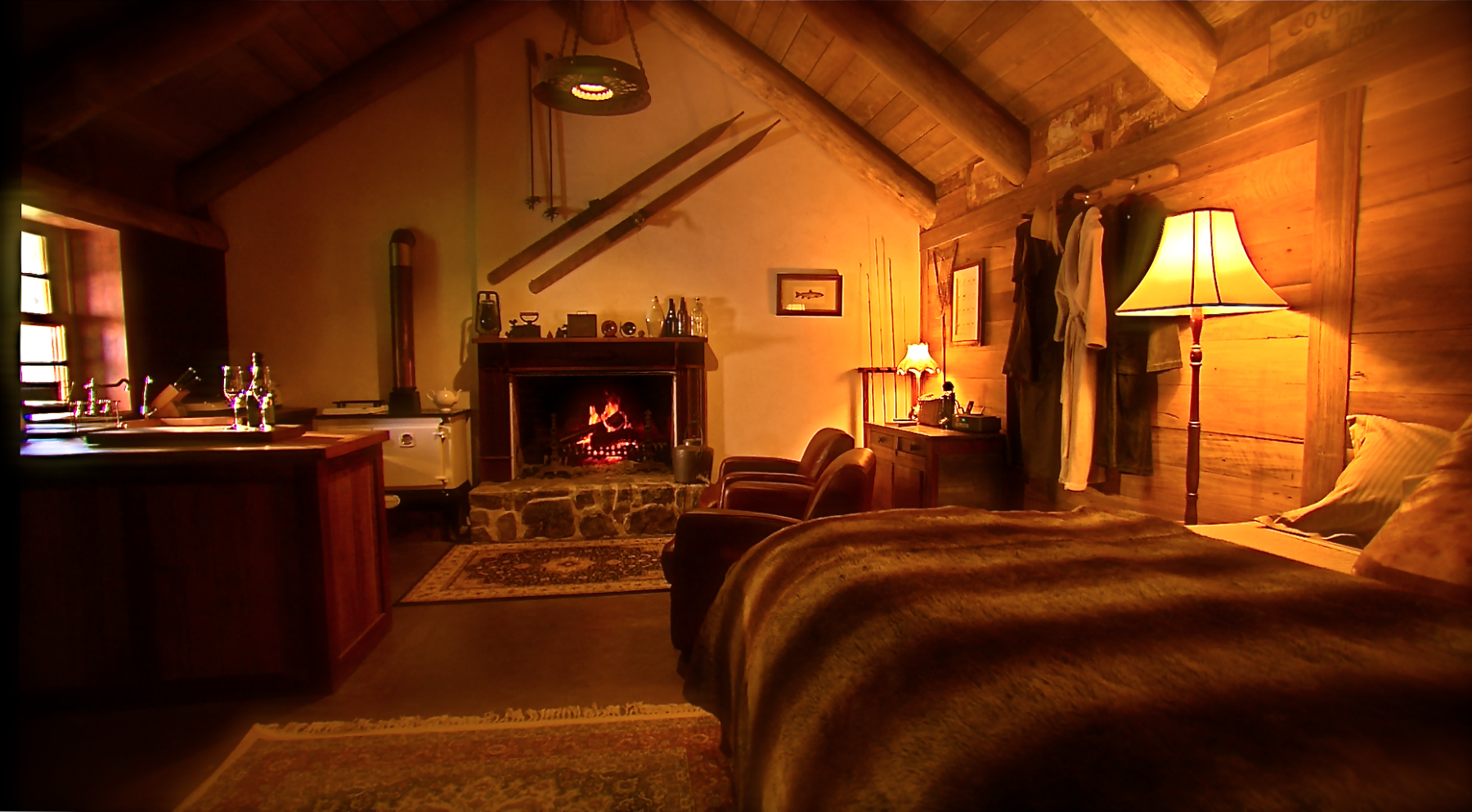 "If you like granite walls, timber beams, stone fireplaces, mountain streams, snow gums, starry nights and the feeling that you're staying in a place that seems like it must have been built in 1822 (all with the modern comforts of in-slab heating, bathrobes and gas hot water) then get yourself here! Moonbah Hut is a lovely little place that has been hand-built and kitted out with thought, care and style. It's in a beautiful landscape too (don't be fooled by the dryness around Jindabyne on the way in – this place is well-watered and thriving). If you're keen and have time you can even cook using the 'Canberra' wood-burning stove (we managed lamb shanks in stout with mash & peas). If not, use the hot plates! The owner, Brett, is a perfect host and has thought of everything to make your stay comfortable and memorable. Tips: Bring a torch for wombat-spotting and a star chart for constellation-spotting. Oven-mitts would also be handy if you're planning on using the wood burning stove."
RACHAEL, CANBERRA.